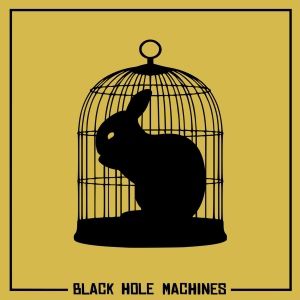 Les plus anciens se souviennent d'eux comme The Arches, un groupe orienté pop-rock qui envoyait déjà du lourd et que l'on peut écouter ici. Quelques années plus tard, le trio composé de Antoine, Simon et Thomas mue pour prendre le nom de Black Hole Machines. Avec ce nouveau patronyme, le groupe muscle son jeu et en dégage un son plus lourd mélangeant la puissance du stoner et les riffs électriques du garage.
Un mélange que l'on trouve dès le début de Run, Rabbit, Run avec Too Shy To Love You. C'est crade, ça envoie du larsen à tour de bras, c'est accrocheur, bref c'est du rock comme on l'aime. Tell Me Why prend la suite et on pense inévitablement aux Arctic Monkeys. Le (quasi) instrumental Down the Hill pointe son nez avec des montagnes russes de décibels avant de retrouver Hold On To Your Gun et toujours cette maîtrise sonique. L'album se terminer avec Kill me Now, titre tout en tension et en crescendo qui livre une explosion finale dantesque.
Run, Rabbit, Run est une très bonne réalisation d'un groupe de rock originaire de Bretagne et qui ne provient ni de Rennes, ni de Brest mais bien de Pontivy. Le son est lourd, puissant et tout semble parfaitement maîtrisé. Les Black Hole Machines ne réinventent pas le rock mais ce premier EP est un vrai coup de coeur !