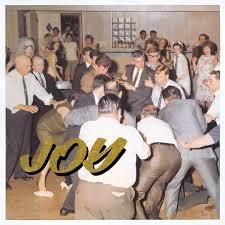 Il est une vague qui ne se tarit pas depuis quelques années du côté des îles Britanniques. Celle du retour du punk. On retrouve des groupes comme Shame, Slaves, Sleaford Mods ainsi qu'IDLES. C'est de ce quintet dont on va parler maintenant. Formé à Bristol en 2012, le groupe mené par Joe Talbot vient de sortir Joy as an Act of Resistance, son second opus en moins de deux ans, Brutalism étant sorti en mars 2017.
Le moins que l'on puisse dire c'est que le groupe rentre dans son sujet d'office. Colossus colle un uppercut d'entrée à l'auditeur. Ensuite on assiste à une démonstration de force et de puissance dans ce très bon album. Never Fight a Man with a Perm, dont on jure le refrain beuglé dans un pub anglais ou encore Samaritans, Danny Nedelko, Cry to Me, Television ou la clôture Rottweiler montrent la puissance sonique du groupe et offrent de sacrées joutes en perspective dans la fosse ! Cependant il serait extrêmement réducteur de ne résumer IDLES qu'à ça. En effet on retrouve des titres plus sombres comme Love Song ou plus progressifs comme l'excellent June.
Joy as an Act of Resistance est clairement l'un des très bons disques de la rentrée. C'est carré, puissant et on sent une belle alchimie musicale dans le groupe mené par Joe Talbot. Ce dernier, qui scande plus qu'il ne chante, fait un sacré numéro durant ce LP. Il est aussi sacrément bien accompagné par le reste du groupe IDLES qui propose une musique directe et ultra efficace dont il est impossible de ne pas - au moins - taper du pied.