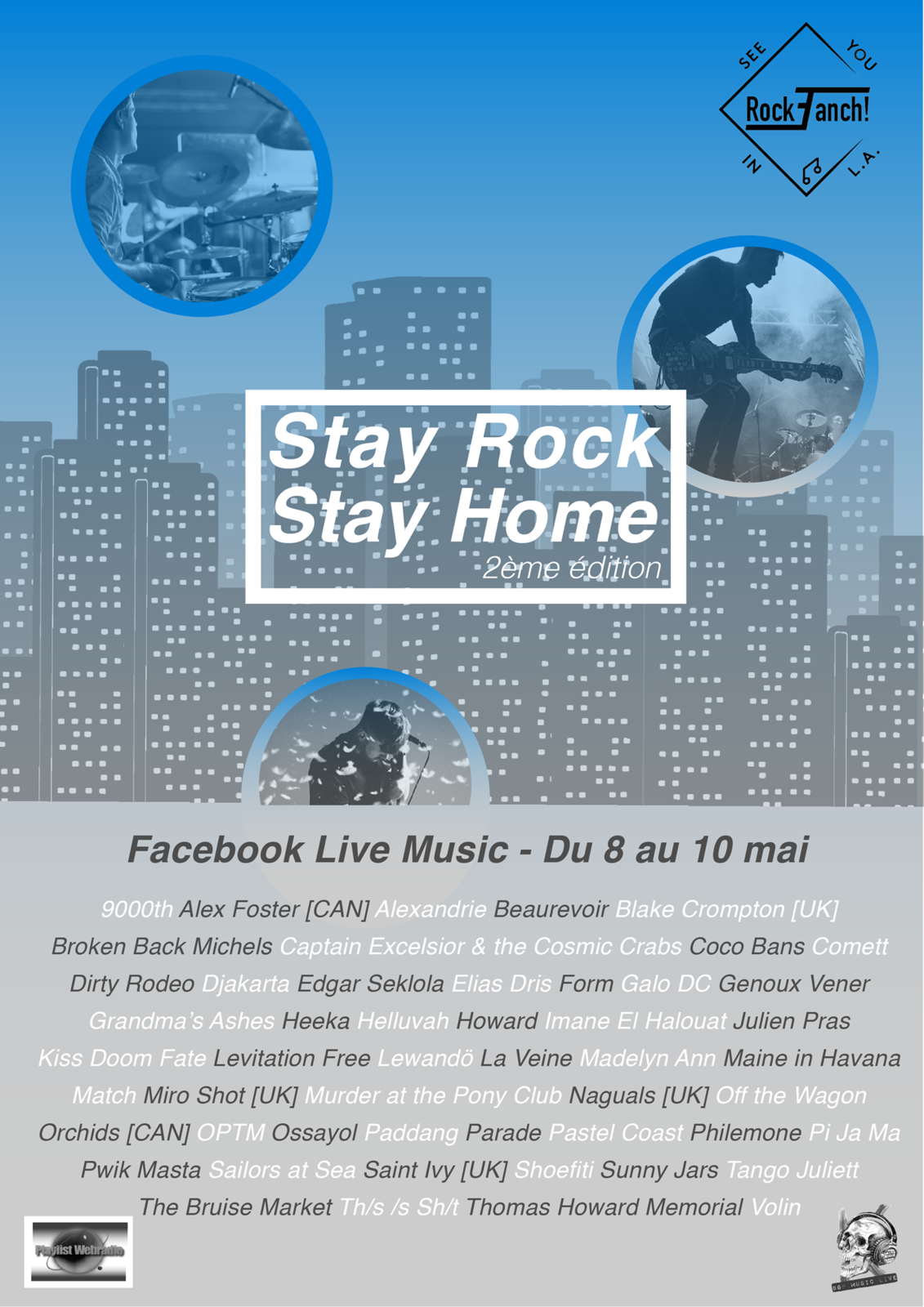 Voici la playlist de la cinquantaine de noms présents pour la seconde édition du festival Stay Rock Stay Home qui aura lieu du 8 au 10 mai, toujours sur Facebook ! Au programme, une pléiade de groupes aux styles variés avec du rock, de la pop, de l'électro mais aussi du stoner ou de l'expérimental ! Sans oublier la présence de groupes canadiens ou britanniques. Crois-moi ça va être ce week-end va être l'occasion d'une superbe fête !

Vendredi 8 mai
9000th, Alex Foster, Beaurevoir, Captain Excelsior & Cosmic Crabs, Comett, Dirty Rodeo, Form, Genoux Vener, Grandma's Ashes, Howard, Julien Pras, La Veine, Lewandö, Naguals, Off the Wagon, Ossayol, The Bruise Market et Th/s /s Sh/t.

Samedi 9 mai
Alexandrie, Broken Back Michels, Coco Bans, Djakarta, Elias Dris, Imane El Halouat, Helluvah, Murder at the Pony Club, OPTM, Orchids, Philemone, Pi Ja Ma, Pwik Masta, Sailors at Sea, Saint Ivy, Shoefiti, Sunny Jars et Volin.

Dimanche 10 mai
Blake Crompton, Edgar Seklola, Galo DC, Heeka, Kiss Doom Fate, Levitation Free, Madelyn Ann, Maine in Havana, Match, Miro Shot, Paddang, Parade, Pastel Coast, Tango Juliett et Thomas Howard Memorial.